Location of Sunrise Villa Shimla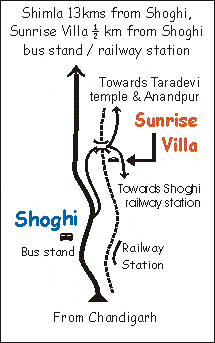 Shoghi is 13 Kilometers short of Shimla on Ambala – Shimla national highway and Sunrise Villa is just half a kilometer  towards the right from main Shoghi Bazaar on Anandpur Road across rail under bridge, away from noise and rattle of the highway.
Reaching here by Car
Excellent road including the hill stretch with many food joints along the highway (7 hours from Delhi, 3 hours from Chandigarh)
 Sunrise Villa by Bus
There is 24 hours bus service from Chandigarh (travel time 4 hours) and Delhi ( travel time 9 hours) and buses depart at short intervals of time. Both ordinary and luxury buses are available. Some transport agencies are running deluxe VOLVO coaches also. Check with the concerned authorities for the timings and bookings. Once you alight at Shoghi you can take a taxi to Sunrise Villa.
For your convenience we can arrange for a pickup also.
More information: Chandigarh to Shimla by road
Sunrise Villa by Train
 Kalka is the nearest broad gauge railhead. (70 Kms from Shoghi) and Shoghi is the nearest narrow gauge rail head.  You can take a taxi from Kalka which costs Rs 1350. Alternately you can come by bus or narrow gauge train. The narrow gauge toy train takes about 4-1/2 hours to reach Shoghi Railway station. From the station you have to climb down to Shoghi bus stand (about 100 meters) and take a taxi to Sunrise Villa which will cost Rs. 100.
Narrow Gauge trains Shivalik express (Train No. 241) and Himalayan Queen (Train No. 255) does not have a stop at Shoghi while coming from Kalka.
For your convenience we can  arrange for a pick up for you from Tara Devi the nearest halt for Himalayan Queen (8 Kms after Shoghi) and  Shimla the nearest halt for Shivalik Express (13 Kms from Shoghi).
Pickup charges Rs 200 from Taradevi and Rs 400 from Shimla railway station. See toy train time table at this link