Sunrise Villa by road from Delhi / Chandigarh
Shimla hill station is located on the national highway number 22 which starts from Ambala passing through Zirakpur, Parwanoo and Solan  and goes up-to Khab near the China border. The Chandigarh Shimla Distance is 117 kilometers and as Shoghi is 13 kilometers before Shimla the Chandigarh Shoghi distance  is 105 kilometers. The travel time varies between 3 to 4 hours.
As this is an important highway it is properly maintained and the drive on this highway is a pleasure. A 10 km long four lane Pinjore bye pass has recently been constructed to avoid the bottlenecks at Pinjore, Kalka and Parwanoo. The Ambala Parwanoo stretch is now four laned.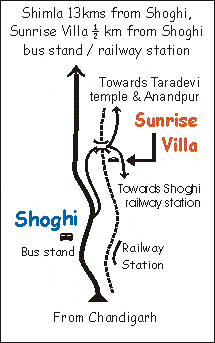 From Kalka onward the mountain road starts with lots of turns and bends the average speed of the vehicle reduces to 40 Kms per hour. As lots of tourists throng Shimla round the year a number of eating joints, hotels and restaurants have come up along the highway. As you meander on the highway and gain altitude you are greeted with a cool breeze and picturesque views of the Valley.
A short distance from Parwanoo is the Timber trail resort famous for the rope way which takes tourists to the hill top which has a restaurant and hotel. There is huge rush here in the weekends.
Dharampur is the midway place between Chandigarh and Shimla and has become the popular eating and resting point. The Giani da Dhaba is the most famous eating joint here and is always full of tourists. Dharampur has more than 40 eating joints, dhabas and restaurants. The road to Kasauli bifurcates from Dharampur towards the left.
After Dharampur the road passes through Solan,  Kandaghat, Shoghi and finally touches Shimla. There is bifurcation for Chail towrads the right from Kandaghat.
Delhi Chandigarh Shimla by bus
There are 24 hour bus services from Delhi and Chandigarh for Shimla. Delhi Shimla distance is 370 kilometers and travel time is 8-10 hours. A large number of Volvo buses are available from Himachal Roadways and Himachal tourism development corporation. Both these Himachal government undertakings have online bus ticket booking facility also. Most of the Volvo bus timings are in the morning and evening. All buses pass through Chandigarh bu stand. Ordinary buses are frequently available from Chandigarh to Shimla at a gap of half an hour.
Reaching Sunrise Villa
You will have to get down at Shoghi bus stand 13 kilometers before Shimla. All ordinary  buses stop at Shoghi bus stand located on the highway, and Volvo buses stop on request. Sunrise Villa is just half a kilometer from this place and taxi is available at the bus stop or you can call us to arrange the same.